Oilfield Desilter and Desilter Feeding Pump ?>
Oilfield Desilter and Desilter Feeding Pump
Oilfield Desilter is the third phase solids control equipments after shale shaker and desander equipments. It is made by desilter cyclone, inlet and outlet pipeline, steel frame and shale shaker for bottom drying. The defeeding pump normally choose centrifugal pump with electrical motor, pump size depending on cyclone size and quantity to make a suitable mud flow capacity.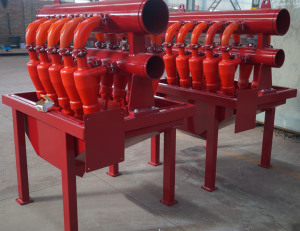 Oilfield Desilter Configuration
The desilter is mainly treat drilling mud by desilter cyclone by centrifugal force. It is popularly use 4" desilter cyclone for separate solids 15 – 25 microns and above, the majority larger solids particles was separated by centrifugal force and drop out from desilter nozzle and fluids content overflow from top outlet and discharge to tank compartment. There maybe a set of shale shaker on bottom of desilter cyclone, it is installed in finner mesh screen for drying solids particles out of cyclone. The mesh size choose from API 140 to API 325 depending on drilling requirement. The desilter mud flow can be 500GPM to 1500GPM depending on cyclone quantity.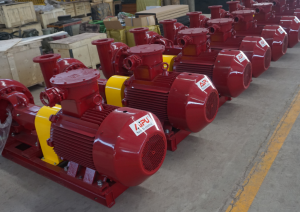 Oilfield Desilter Feeding Pump
The desilter feeding pump is a set of centrifugal pump made by a set of pump head, a electrical motor and coupler. The pump is mechanical seal instead of packing seal compared that many China supplier supply packing seal. The pump main components are pump head and electrical motor. The electrical motor can be supplied in different specification and certificates like IECEC, ATEX, DGMS or others depending on requirement with different rate. The pump is easy maintainence with impeller, bearing and oil seal replacement as spare parts.
AIPU Solids Control is one of the leading manufacturer supply all solids control equipment as per API regulation. Other than desilter, AIPU build shale shaker, desander and decanter centrifuge as well as other mud tank equipment, Please contact our website for more information.