Vibrator Motor for Shale Shaker ?>
Vibrator Motor for Shale Shaker
Vibrator motor is the equipment to power shale shaker to supply vibrating G force. The shale shaker is separating solids particles by shaker screen with a suitable G force to help solids separation and solids discharge. Each shale shaker normally require 2 sets of vibrator motor installed on shaker deck, the horizontal force will be balanced by 2 sets motor and supply a suitable vibrating direction.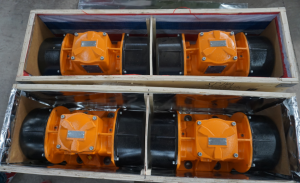 Vibrator Motor Specification
AIPU supplied shaker install motor Italian brand Oli as per company standard, the import motor can be supplied depending on certificates requirement and clients brand requirement. Martin, Oli or Itavibras all can be supplied.

Each end of motor installed wedge for vibrating power supply, the wedge can be adjusted to adjust shaker G force. There is mechanical adjust wedge or electrical depending on requirement and budget. Mechanical adjust motor is AIPU standard option for it's high cost effective.

 

The installation of motor is bolt type, each motor will require 4 sets bolts for installation.
Vibrator Motor Selection for Shaker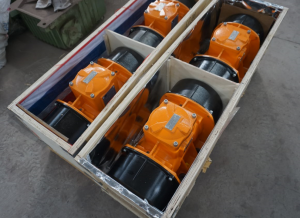 The motor selection will be depending on shaker size and G force requirement.

If you require electrical control of G force adjustment, then you will need choose a motor for electrical control wedge which will be high cost.

Different certified motor can be selected by different request, European driller will require ATEX certified motor, US driller will require UL certified motor or IECEX certified, Indian clients may require DGMS certified motor.
AIPU Solids Control supply vibrator motor as well as different size of shale shaker as per API standard and clients customized request. Other than shaker motor, AIPU supply other spare parts for shaker like shaker screen, wedge, shaker deck rubber, control panel, etc. Among all spare parts, AIPU supply shaker screen for many shale shakers that build by other top shaker suppliers. Please contact AIPU freely for inquiry.