Oilfield Mud Gas Treatment Equipment ?>
Oilfield Mud Gas Treatment Equipment
Oilfield mud gas treatment equipment is mainly mud gas separator and flare ignition device. AIPU supply a complete drilling mud treatment equipment. The mud recycling equipments are shale shaker, desander , desilter and decanter centrifuge. The assistant equipments are mud agitator, mud gun, mud tank, centrifugal pump. The mud mixing equipments are mixing pump, mixing hopper, mud agitator. The mud gas treatment equipments are mud gas separator, vacuum degasser and flare ignition device.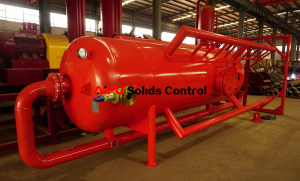 Mud Gas Separator
Mud Gas separator is the main gas separate equipment site before shale shaker in case of KICK condition. There are 3 options by tank vessel diameter 800mm, 1000mm and 1200mm depending on mud flow capacity. The 1000mm size is the most popular size by it's high effective by mud flow capacity and price cost. The mud goes into gas separator from top by a 8" pipe inlet with flange connection. The gas vent line is 8" size from top and can be bent to bottom for easy pipeline arrangement to flare ignition device.
Vacuum Degasser
Vacuum degasser sit after shale shaker but before desander to separate small gas burbles. There is tank vessel size 240mm, 270mm, 300mm and 360mm options. All the US brand vacuum degasser is not self suction but AIPU supplied degasser is self suction and one set of feeding pump will be reduced. The degasser is work to reduce damage to desander and desilter feeding pumps by sit before.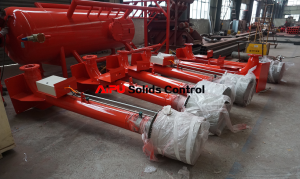 Flare Ignition Device
Flare ignition device is the equipment to burn waste gas out of mud gas separator. It normal set 30 meters away of drilling site for safety burning. The igniter contains mechanical device, junction box and electrical control panel. There will be 30 meters cable supply together with equipment in order. The igniter may not required for some drilling site and they may discharge on top of mud gas separator.