500GPM Mud System for Water Well Drilling ?>
500GPM Mud System for Water Well Drilling
500GPM mud system is a top configuration for water well drilling for 500 meters drill hole. It contains first phase treatment shale shaker, second phase desander cone and third phase desilter cone installed on shaker for second equipment, 2 sets of centrifugal pumps, 1 set mud agitator, 1 set mixing hopper and 1 set of mud tank. The tank size can be customized from 6 meters to 12 meters depending on tank capacity requirement.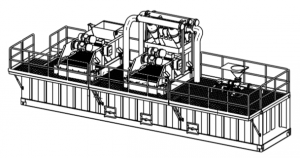 High Configuration 500GPM Mud System Specification
500GPM mud treating capacity for maximum mud flow.

Shale shaker installs 40 mesh screen for 400 micron solids separation to meet 500gpm mud flow. Higher mesh screen can be selected with lower mud flow capacity but finer solids separation point.

1 set 10 inch desander and 8 sets 4 inch desilter to separate solids 15 to 25 microns, 2 sets of centrifugal pump will work to feed mud into cyclones with a proper pressure for cyclone performance.

1 set mixing pump and mixing hopper installed to mix new mud for drilling.

6 -10 meters mud tank for mud storage and mud intermediate while 3 phase solids separation.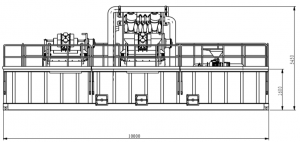 500GPM mud system for water well drilling can be 2 phase cleaning by shaker and desilter to minimum mud system total electrical power and tank footprint. The mud flow capacity can be customized by adjust cyclone size & quantity too. Please contact us freely for water well mud system.