High Pressure Poor Boy Degasser as per ASME VIII ?>
High Pressure Poor Boy Degasser as per ASME VIII
High pressure poor boy degasser is the equipment to separate gas out of drill mud as per ASME VIII. There are many suppliers for poor boy degasser but most of them supply normal pressure equipment instead of high pressure with ASME VIII. AIPU is able to supply poor boy degasser normal pressure for cheaper price and higher pressure as per ASME VIII standard. All tank vessel, pipeline and flange is strictly supplied as per regulation.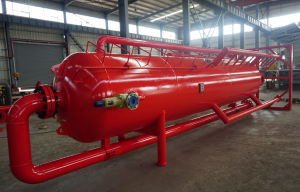 High Pressure Poor Boy Degasser Standard
Degasser tank vessel is 1000mm diameter for mud flow capacity 260-360 m

³

/h with suitable thank thickness as per pressure requirement.

All drawing, manufacture, material selection is strictly as per ASME VIII standard.

The whole equipment including tank vessel, mud inlet, mud outlet, gas vent line and flange connection as per pressure requirement.

30 meters gas vent line is able to supply together with degasser to guide waste gas into flare ignition device for burning.
The oilfield normally use standard poor boy degasser without ASME VIII for cost effective. The tank vessel 800mm, 1000mm and 1200mm size for selection. Please contact us freely for inquiry.