ZJ20 Solids Control System Delivery to India ?>
ZJ20 Solids Control System Delivery to India
ZJ20 solids control system is designed for drilling rig that max drilling depth 2000 meters. ZJ is the short name of drilling rig in Chinese name, 20 is the short for drilling depth. So there are ZJ30, ZJ40, ZJ50, ZJ70 as well. AIPU Solids Control is a professional manufacturer for complete solids control system including all shale shaker, desander, desilter, decanter centrifuge, poor boy degasser, vacuum degasser, transfer pump, mud agitator, mud tank, etc. AIPU Solids Control just delivered one set of ZJ20 solids control system from Shanghai to India by sea.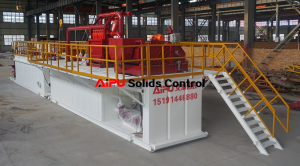 Main Equipments in ZJ20 Solids Control System
1 or 2 sets of shale shaker depending on shaker model and size, 2 sets of 2 decks shaker or 1 set 1 deck shaker both ok. There are other models of shaker like 4 panels shaker or double deck shaker for option also.
1 set mud cleaner with desander and desilter cyclones or separate desander and desilter equipments lay beside each other.
2 sets of transfer pump for supply mud into desander and desilter cyclone, the pump sit at bottom of shale shaker normally.
Mud agitators will be lay on each clean mud tank compartment as well as mud gun. The agitator size and shaft will be design depending on tank size and mud conditions.
2 sets of mud tank for mud storage and new mud mixing with active tank compartment.
Mud suction line and mixing pump suction line able to suction from any mud tank compartment and discharge into any other compartment with control by valves.
Handrails is folded on tank size as well as handrails.
Tank top can be checker plate or gratings for options by clients.
Mixing hopper can be lay on tank top or skid depending on requirement.