Oil Sludge Treatment System Delivery to jobsite ?>
Oil Sludge Treatment System Delivery to jobsite
AIPU Solids Control is one of the professional manufacturers of oil sludge treatment system in China. The client talked with us for about 12 month from last August on collecting information and price and finally ordered in May. AIPU design as per clients require on oily sludge treating flow, water content in recycled oil, oil content in the sludge, etc. AIPU oil sludge treatment system designed based on worldwide leading technology, using mechanical and chemical treatment, skid mounted and small footprint ultrasonic Treatment. The system performs de-slugging and oil recovery during. It is very versatile system And able to clean oil sludge collection pits and various petrochemical holding reservoirs With a outstanding results in the compact , mobile and energy independent package.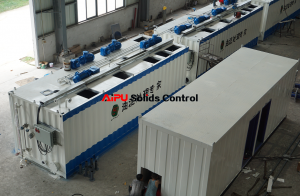 Main Features of AIPU Oil Sludge Treatment System
All equipments installed inside of 20ft or 40 ft container, the containerized design is good for layout and pipeline arrangement on jobsite.
Equipments and model selection is highly cost effective with best oil sludge treatment solution.
PLC intelligent control for all equipment for convenient control and operation.
The recycled water will be return to water entering of the system, there is no discharge water and all water is recycled in the circulation.
There are 3 options for heating type: electrical, steam water, oil. Heating type can be design as per client's jobsite requirement.
The treated oil content in solids is below 2% for environment standard.
All pipes and connections for soft pipe and fast connection for easy and fast installation or disassemble.
Less chemical adding enable less cost for long term operating.
Depending on oily sludge treatment requirement, AIPU Solids Control can design work plant for higher capacity and/or special treatment requirement. The container size or tank size can be customized also.