ZJ20 Solids Control System Delivery To India ?>
ZJ20 Solids Control System Delivery To India
ZJ20 Solids control system is designed for 2000 meters drilling rig, AIPU delivery one set of ZJ20 solids control system to India jobsite this week and arrange 2 engineers on jobsite commissioning. The client visited AIPU factory twice for technical clarification and factory inspection before order. During their visit, the clients mentioned many reasonable technical design to meet special requirement and convenient operation and adopted a lot of AIPU suggestions on design details. The final design is a good solution for both efforts and effective in many applications and jobsite solids control system usage.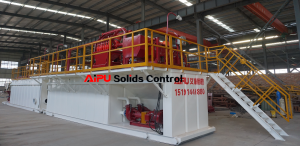 ZJ20 Solids Control System Technical Specification
1 set single deck linear motion shale shaker sit at shaker tank end beside a set of desander shaker. There is a distribution box connect shale shaker and desander shaker to allow both work for first phase separation.
1 set desander cone sit on a desander shaker, the bottom shaker is workable for first phase cleaning and or drying application for solids out of desander cone. The 10 inch desander reaches mud flow capacity to 100 m³/h by a 4 bar centrifugal pump feeding mud.
4 sets of mud agitator and mud gun for agitating mud at active tank, the mud gun can transfer mud or flush tank by a mixing pump sit at mixing tank.
1 set of mixing pump and mixing hopper able to mix new mud as per requirement at tank end with suction and discharge line at all active tank compartment. Mud pump suction line will arrange at all active tank compartment too.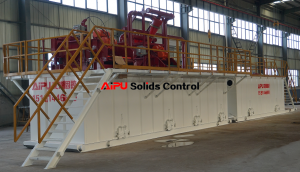 AIPU ZJ20 solids control system is one of the effective design for drilling site. Depending on different drilling site, AIPU do solids control system for customized design for different size of drill rig, mud flow capacity and or different site layout. Please contact us for more information or questions.