HDD Mud Recycling System For Sale ?>
HDD Mud Recycling System For Sale
AIPU is one of the leading manufacturer for HDD mud recycling system in China, there are different size of HDD mud recycling system for sale with good discount. AIPU stock 1 set of  300GPM mud recycling system in warehouse for sale. The 300gpm mud system was designed for Trenchless Exhibition in Indonesia and will be ready for delivery after finished the show in August. Other than 300GPM mud system, AIPU design a complete line of HDD mud system with customized specification as per mud flow, tank storage capacity, mud mixing application, tanks layout, etc.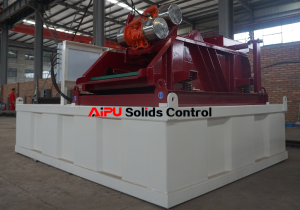 300GPM HDD Mud Recycling System Specification
The mud flow entering into shale shaker is 300GPM with a submersible slurry pump sit in mud pit for mud transfer.
Single deck shale shaker with 4 panels of screen, the mud flow capacity for shaker reaches to 500GPM at 40 mesh screen. Depending on the drilling requirement, the shaker screen mesh size can be from 40 mesh to 120 mesh with different mud flow capacity and separation size.
6 meters long mud tank for dirty and clean mud storage. The tank height is very low to allow shale shaker delivery on mud tank for fast moving.
1 set of centrifugal pump will be able to transfer mud from tank to somewhere. The pump capacity is 300GPM to allow mud recycling system can be working in a circulation.
1 set of mud agitator installed on mud tank to avoid solids settling down after shaker treatment.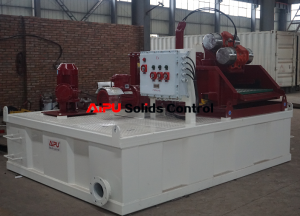 Main Equipments Of HDD Mud Recycling System
Submersible slurry pump for transfer mud from mud pit into shale shaker
Shaker shaker to separate drilling cuttings.
Desander to separate sand particles
Desilter to separate silt particles
Centrifugal pump for mud transfer from tank to tank or feeding desander or desilter
Mud tank for mud storage
Mud agitator or mud gun for agitating drilling mud without solids settling down on tank corner and bottom