Drilling Mud Mixing Tank For Sale ?>
Drilling Mud Mixing Tank For Sale
Drilling mud mixing tank for sale with good discount in AIPU Solids Control in this June. AIPU Solids Control is one of the leading manufacturer for drilling mud mixing tank. There are 2 sets of mixing tanks will be finished manufacturer this June but the ordered client delay their project, so AIPU decide to sell the 2 sets of mixing tank and build new tanks 2 month later to empty our factory yard. There are different design for mud mixing tank like different tank volume, different mixing pump capacity, different pipeline arrangement etc.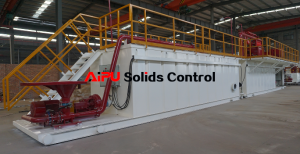 AIPU Mud Mixing Tank Specification
Mixing tank is 12m x 2.5m x 2.4m size with 400bbl tank volume, it is divided into 2 tank compartment for premixing and storage depending on jobsite conditions.
2 sets of 55KW motor and 2 sets of 8×6 mixing pump with a mixing hopper for new mud mixing, 1 set mixing pump & motor for use and another for standby.
3 sets of 15KW mud agitator installed on tank top for agitating drilling mud, a stabilizer installed on mud agitator shaft to keep shaft rotating steadily.
Mud pump suction line with 2 suction points with 10 inch lug type valve to allow mud pump suction active mud into mud pump for feeding drill hole.
Gratings on tank top for easy visable of mud conditions while working on jobsite. There are 2 manhole on tank top for maintainance.
1 clean gate at each compartment for clean tank disposal.
Other than drilling mud mixing tank, AIPU Solids Control build mud recycling tank, mud storage tank and active tank also. All tanks can be including equipments like shale shaker, desander, desilter, vacuum degasser on shaker tank, mud agitators and mud gun on storage tank and active tank. Please contact AIPU Solids Control for more information or technical chatting.