Poor Boy Degasser Delivery to Indonesia ?>
Poor Boy Degasser Delivery to Indonesia
Poor boy degasser is a necessary equipment to separate gas from drilling mud in oil or gas drilling site. AIPU manufactured 4 sets of poor boy degasser for an Indonesia client after one set trial order in year 2018 with good performance feedback. The degasser is an ideal equipment to set before shale shaker to reduce drilling site explosion risk. The client ordered 4 sets of degasser together with 4 sets of flare ignition device to burn the separated gas out of degasser.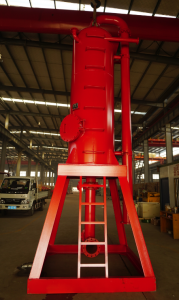 What Makes Poor Boy Degasser Price?
Degasser size with tank vessel 800mm, 1000mm or 1200mm size for different mud flow capacity and price is higher for larger size degasser.
Pressure request makes very different price, the higher pressure the higher price. All AIPU supplied degasser is non-pressure vessel for cost effective. But many site will require pressure vessel for degasser with a certain pressure figure and much higher price.
Extra request on degasser design like on degasser size, customized degasser skid, pipeline arrangement, etc.
AIPU is able to supply a degasser package with a set of poor boy degasser and a set of flare ignition device and a certain length of pipeline between to 2 equipment. The flare ignition device is used to burn waste gas 30 meters away from drilling site. More information, please click AIPU website.