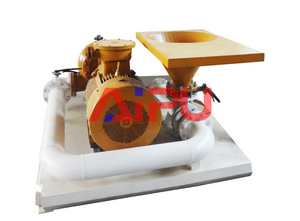 Mud mixing pump types from Aipu machinery ?>
Mud mixing pump types from Aipu machinery
As a special equipment in drilling mud solids control system, mud mixing pump plays an important role in drilling mud process system.
Mud mixing pump
Mud mixing pump is a special equipment used to prepare and increase the drilling fluids weight by adding and mixing bentonite, change the fluid density, change the mud density, viscosity and dehydration. The effect is more prominent if it is matched with shear pump. The mud mixing pump produced by Aipu solids control has fast preparation mud speed, safe and reliable performance and long service life.
Aipu mud mixing pump
Aipu solid control manufactures two types mud mixing pump, one is the jet mixing pump the other is the swirl hopper pump. Different type has different structure, working principle, application and so on.
Jet mixing pump is a new type equipment that is designed by venture tube and the original jet nozzle combination. Not only simple in structure, but also its feasibility is strong, it can meet the 1500m to 9000m drilling mud aggravate and preparation. At the same time we can also make double jet mud mixing pump according to the customers' request.
The common models of jet mixing pump manufactured by Aipu including SLH150×50, SLH150×45, SLH150×35, different model number means different handing capacity, working pressure, dimension, weigh and so on. The common models of swirl hopper pump manufactured by Aipu including XL200, XL150 to meet customers. You could choose a suitable one according actual conditions.
Usually, the mixing pump selection has relation with flow rate also the horse power. Then the design of system and the tank construction. Then we need to consider the tank storage capacity. And every 10-30 minutes the jet mud mixer should finish mixture capacity up to storage capacity
The mud mixing pump can improve drilling mud property effectively, saving cost and time. If you need or you are interested in mud mixing pump, please feel free to contact me.