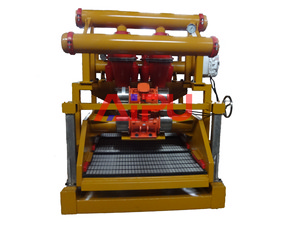 Mud cleaner importance in solids control system ?>
Mud cleaner importance in solids control system
Mud cleaner is the second stage solid control equipment used for drilling fluid circulation system, HDD, CBM and Geothermal environmental waste mud cleaning system.
Working process flow of mud cleaner
The weighted mud flows to the inlet head section of the desander and/or desilter entering the hydrocyclones for separation of particles. Mud leaving the underflow is further screened with fine mesh to separate larger particles allowing only barite-size particles to pass through the screen.
Features, advantages and benefits
High G-force linear motion—adjustable up to 7.8 G—enables more aggressive screening and increased solids conveyance, improving solids separation.
The desander includes three 10-in. (305-mm) diameter polyurethane hydrocyclones that can process a total of 1,200 gal/min (4.54 m3/min), enabling the operator to maintain most normal drilling operations.
Each hydrocyclone includes a wear-resistant polyurethane liner that protects the cones and increases the life of the cone.
Shaker screens supplied with preinstalled rubber seals require no deck rubbers or wear strips on the shaker basket, preventing solids from bypassing shaker screens and reducing consumable costs.
Why we should use mud cleaner in the solid control system?
As we all know that the main function of solid control system is to separate the drilling solids into water and mud, while in the whole working flow, we should use some equipment to separate the drilling solids into sand and mud firstly. Generally, we could use mud desander and mud desilter to solve this problem. However, mud desander and mud desilter are two items, which will increase the cost and time to use these two items. Therefore, we designed the drilling mud cleaner to solve this problem. With the help of mud cleaner, we could separate the drilling solids into different sand and mud easily, and it could be handled easily also. That's why mud cleaner has been popular used in drilling fields by almost all of the drilling service companies in home and overseas.
Aipu solids control is a professional manufacturer on solids control equipment and drilling waste management, we have just got API Q1 certificate, API certificate is a rather reliable file in Oil and Gas drilling industry. Our all goods comply with ISO or API standards. Welcome to Aipu solids control to enquire.