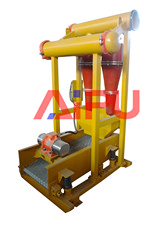 The principle and feature of drilling mud desander ?>
The principle and feature of drilling mud desander
Drilling mud desander is the second phase mud processing equipment. A desander is a device that removes large drilling solids from the whole mud system. It should be located behind the shale shakers and vacuum mud degassers and before the desilters or mud cleaners.
Principle of drilling mud desander
The hydrocyclone drilling mud desander is operated in accordance with the principle of centrifugal separation. Hydrocyclone is made of an upper cylindrical section and a lower conical section. A vortex finder pipe protruding downward at the top of the upper cylindrical section that is a little bit below the tangential feed section. Fluid from centrifugal pump enters the tangential feed section of the hydrocyclone at high velocity on swirling motion creating a centrifugal force that accelerates the solids to the cone wall. The solids and liquid mixture rotates rapidly. While swirling downward the higher mass solids move toward the wall and exit the down section- cylinder through its apex while the lighter mass which are concentrated away from the wall towards the center line are now forced to reverse direction swirling upward exiting the vortex finder.
Features & benefits of drilling mud desander
Polyurethane(PU) material or high-chromium cast iron for drilling fluid desander cones with longer using life.
Clamp type for easy maintenance.
Compact design with small footprint.
Flexible options for 1, 2 or 3 for different capacities.
Flexible fast connection is available for user assembly.
Aipu solids control can provide you high quality hydrocyclone desander, we have different model bottom shaker for you to choose, and when shale shaker and desander work together, it works better and smoothly. The cones size and number can be adjusted according to client's actual capacity requirements. Cones also can be cast iron or other materials.
Aipu is a professional solids handle solution company which specializes in solids handle program, if you need desander, please do not hesitate to contact us.