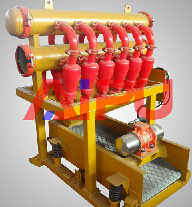 Advantages and using tips of desilter ?>
Advantages and using tips of desilter
Desilter is made up with the hydrocyclone and shale shaker screen, it is designed by the theory of particle sedimentation. The separation medium-drilling fluid produces some pressure and speed when it passes the centrifugal pump, and flows into the hydrocyclone along the wall, the bigger solid particles along the wall of hydrocyclone sink spirally under the centrifugal force and gravity, and to be discharged from the bottom flow hole and fall on the under micromeshsieve for separation. The other mediums rise along the spiral of hydrocyclone, flow into the fourth class separation equipment-centrifuge for a further cleaning treatment from the overflow hole.
Desilter produced by Aipu Machinery can be adjusted to control the handling capacity to match the different requirements. It is widely used in petroleum drilling and HDD.
The tips for desilter using
In order to meet the requirements of handling all of the drilling fluid, drilling fluid desilter and desander must be made ​​up of several components cyclone cone . In order to ensure normal operation cyclone. Inlet pressure must be maintained at 0.25 — 0.35MPa this range. Desilter swirl cone because many long pipeline, the inlet pressure should be whichever is greater.
Meanwhile, in the selection of drilling fluids and desilter must take into consideration the maximum displacement of drilling pump, with its reach a reasonable match.
Features and benefits of drilling mud desilter
100% Polyurethane (PU) material for oilfield drilling fluids desilter cones with longer using life.
Clamp type for easy maintenance.
Compact design with small footprint.
Flexible options for 8 or 10, 12, 16 for different capacities.
Flexible fast connection is available for user assembly.
If you are interested in our products, welcome to visiting the professional manufacturer which is the leading company for the solids control equipment in china.
The products we can provide for oilfield drilling fluid processing system including drilling mud shale shaker, drilling fluid mud cleaner, desander, drilling fluids decanter centrifuge, vacuum degasser, mud tanks, mud gun, mud agitator, drilling mud centrifugal pumps and all the other solids control equipment, complete solids control system, etc.