Mud Agitator Delivery to Drilling Site ?>
Mud Agitator Delivery to Drilling Site
Mud agitator is well used in mud tank to avoid solids build up in tank corner, AIPU is ready to delivery 50 sets agitators to oil drilling site and delivery to port yesterday for sea delivery. The agitator contains electrical motor, gear box, coupler, shaft, impeller and stabilizer. The client start contacting with us in year 2010, inquiry many times for drilling mud equipment including shale shaker, mud cleaner, mud agitator, centrifugal pump, mud tank and mud mixer. The client visited our factory twice and finally start first cooperation from agitator and tank valve.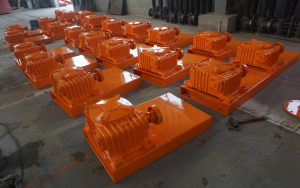 Mud Agitator Main Tips
1.      Direct connection or Couper connection type agitator, The motor can connect with gear box by coupler or direct. Both type agitator can be supplied at different price rate.
2.      Stabilizer option as per technical request and tank depth. Without special request, AIPU supply stabilizer with shaft for tank depth deeper than 1.8 meters.
3.      Impeller diameter can be single or dual as per tank depth or client request. The diameter of impeller can be 600mm to 1100mm depending on tank depth and mud condition.
4.      Electrical motor can be different explosion proof standard at different price rate, China Ex, IECEX, ATEX or other certified motors can be supplied.
Mud agitator and mud gun normally working together, the gun wills install on tank corner beside agitator to get a better performance. The gun has 2" or 3" size, fixed or rotation type option. Non-explosion proof motor can be supplied for horizontal directional drilling, pilling or other non-explosion working drilling. Please contact us freely for inquiry.