Mud Tank Agitator for Sale ?>
Mud Tank Agitator for Sale
Mud tank agitator is well used in drilling mud storage tank, mud recycling tank, mud mixing tank, mud active tank to flow solids from bottom to top to stop solids build up. The mud agitator size will be selected depending on drilling mud condition and tank depth. The gear box size will match suitable size electrical motor to supply enough power to drive gear box and agitator impeller. The shaft length will be made to suit mud tank depth, a stabilizer will be installed if tank depth deeper than 2.0 meters or as per request.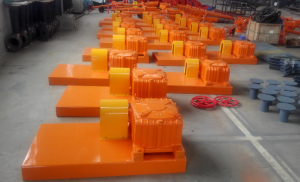 Mud Tank Agitator Options to Sale
1.      Electrical motor power options for 3kw, 5.5kw, 7.5kw, 11kw, 15kw, 18.5kw or 22kw. The motors size selection will be depending on gear box size and impeller size as well as drilling mud condition.
2.      Gear box can be bevel type or warm and gear type. Bevel type gear box is small footprint, higher torque but higher price. Warm and gear type gear box is price effective to be the most popular option.
3.      Coupler type agitator to install coupler between motor and gear box to protect motor and gear box. Direct type agitator will be supplied for lower budget option.
4.      Impeller for a agitator can be single or double depending on tank depth. Double layer impeller option is well used for better performance and price won't be too high.
5.      Stabilizer welded on tank bottom to keep agitator shaft to help agitator shaft steadily. Lower depth tank choose agitator without stabilizer for convenient installation.
AIPU mud tank agitator for sale for various size and design for oil and gas drilling mud tank system. AIPU mud equipment sold to overseas more than 30 countries including India, Austraila, UAE, Africa, etc. Please contact AIPU freely for mud tank agitator or drilling mud tank and other tank equipment.