Mud Gas Separator Top Supplier ?>
Mud Gas Separator Top Supplier
Mud gas separator is a important equipment to separate waste gas from drilling mud to reduce risk of exploration. AIPU Solids Control is one of the top suppliers in China for gas separator as well as other drilling mud process equipment. The separator contains tank vessel, mud inlet, mud outlet, gas vint line and attachment. The vessel can be 800mm, 1000mm, 1200mm diameter option depending on mud flow capacity. Flare ignition device and pipeline between degasser and ignitor can be supplied together to be packed into a 40 feet container sea delivery for cost effective.

Specification of Mud Gas Separator
1. Model of separator APMGS800, 800mm is the vessel diameter, AP is AIPU in short, MGS is mud gas separator in short.
2. Mud flow capacity is 200 to 260 m³/h from high pressure chock manifold.
3. Mud inlet is 5" size, mud discharge line 8" size and gas vent line is 8" size.
4. Working pressure is 125psi, other pressure can be supplied as per request.
5. Material is heavy duty steel or as per request.
6. Other size of mud gas separator can be supplied as well as various working pressure.
7. Flare ignition device and 30 meters cable from degasser can be supplied together with degasser.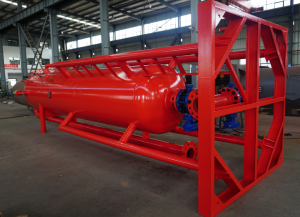 AIPU built high pressure and normal pressure mud gas separator to suit different drilling requirement. Other than mud gas separator, AIPU supply all mud treatment equipment including shale shaker, mud cleaner, centrifugal pump, desander, desilter, decanter centrifuge, mud tank, mud mixer with venturi hopper, etc. Please contact AIPU Solids Control freely for technical support and commercial support.