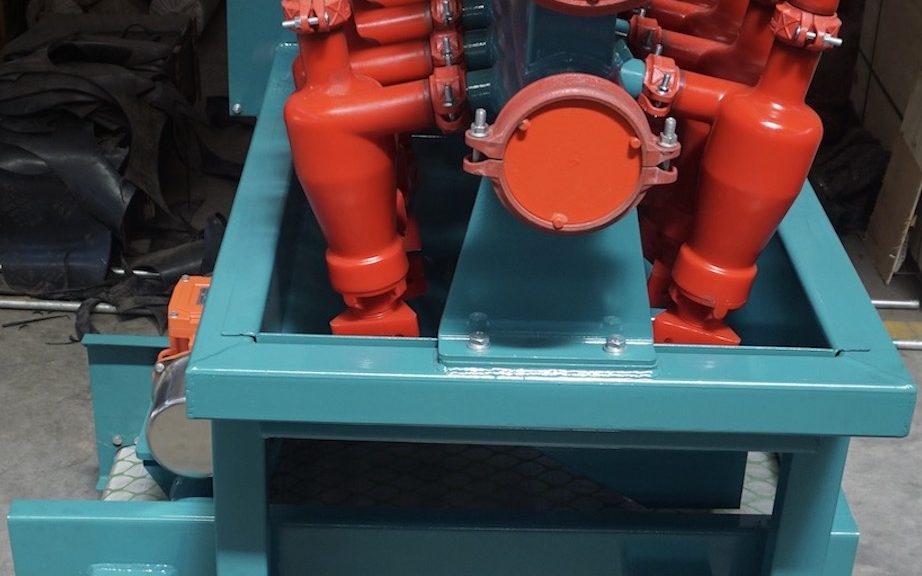 Hydrocyclone separators for drilling mud process at Aipu ?>
Hydrocyclone separators for drilling mud process at Aipu
Hydrocyclone separators here are the desanders and desilters. We use them to process drilling fluid after shaker processing.
Drilling mud process hydrocyclone separators
Drilling mud process is the system to treat drilling fluids with cuttings. There are different equipment, from shale shaker to hydrocyclone to centrifuge. For hydrocyclones, theoretically, the separation point is 15-74microns. The particles will be separated out of drilling mud according to cones size or the diameter and feeding material specification.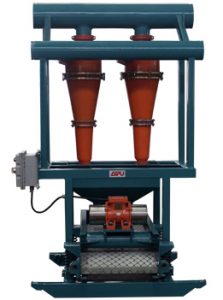 Before hydrocyclone separators, we use shale shakers to get rid of coarse solids. Otherwise, the cuttings abrade cones seriously lead to damage soon. And if there is too much coarse cuttings it will affect the subsequent process. The heavy fluids will affect further equipment performance, too.
So we set shale shaker firstly or process drilling fluid via shaker firstly. Then pump the drilling mud in shaker tank or sand trap pit to hydrocyclones. Fluids in the cones flow as a whirl under the force or pressure from pumps. And the cone shape helps to create centrifugal force. Under the centrifugal force, the materials holding light density will flow away and out of the cone. While the heavy solids will be pushed out of the nozzle or Drop-in Apex.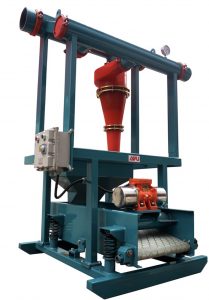 Cones information
Cones here are the hydrocyclone cones. The section shape is tapering. This is a typical pattern that produces centrifugal force.
Hydrocyclone desander and desilter consist of cones, frame, bottom shaker, etc. The cones are the main components of a separator. Desander cones are mostly 10″. But some clients prefer 12″ for a larger capacity. And desilter cones are mostly 4″, while some clients prefer 5″ ones since the larger capacity.
The drilling fluids flow from the cone inlet port at the middle to the lower section and the fluids with cuttings will be sprayed out of the nozzle at the cone bottom. Solids are almost at 15-74microns to remove. For desander, the separation size is about 45-74 microns; desilter cone separation point is 15-44 microns.
Cones materials are high-quality polyurethane. They are anti-abrasion and corrosive-resistant. Clients prefer such cones to casting iron since the light weight and material features.
Design of different separators
There are many different types of hydrocyclone separators. For example, there are desanders with a bottom shaker and just slide chute. Desander cones number can be 1~3, it depends on treating capacity demand.
Desilter separator can be fit with different numbers of cones as different types, too. Such as 8 pcs of 4″ cone, 16pcs of 4″ cone, and so on. The bottom design can be bottom shaker or the slide chute, too
Furthermore, the bottom shaker can be different model. For example, single desander can be with desander cones and standard Hunter-MG shaker, or the Hunter-D shaker. According to the treating capacity requirements, we can fit 3 panels or 4 panels of bottom screen.
Please find some pictures as reference.
Operation and maintenance tips
Considering this question, we need to know some information of spare parts or wearing parts of hydrocyclone separators.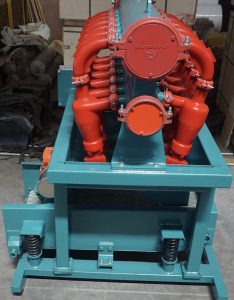 We know the main components are the cones. Let's take standard desander with bottom shaker as an example. The spare parts including desander cone assembly, cone shell or the upper section, lower section, coupling, the nozzle or the Drop in Apex, the nut cover, the pressure gauge. Usually, for one set desander, we suggest 1 cone assembly as a necessary part for 1 year. For the nozzles, we suggest 3 for each cone. As we know, there are different orifices for different use. And the Drop-in Apex is easy to damage since the large quantity of solid pass through.
Operate the hydrocyclone separator legally according to the user manual. Users should feed cones with a certain quantity of mud that don't exceed rated data. And check the cones, the whole equipment regularly to avoid further and serious worn.
Contact suppliers or manufacturers in time for any serious problem or professional questions.
Another point is, keep the necessary spare parts for solutions soon.
Please feel free to contact us if you have a demand or interest in hydrocyclone desander and desilter. Or you need mud cleaner? Call us now!