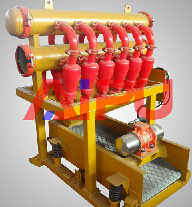 How does desilter work? ?>
How does desilter work?
Oilfield drilling mud desilter is used after desander (or hydrocyclone desander) and as 3rd stage of solids control system, for which the solids diameter to be separated ranges from 15 to 44 microns.
How does desilter work?
Main part of drilling  mud desilter is the hydrocyclone cone. It is a kind of pressure device. The separation process is carried out by centrifugal forces. Under pressure, drilling fluid with solid particles will flow into the mud desilter cones, after high rotation, bigger and heavier particle will be threw to cone wall, then slide down till drop in apex and separated out. Clean fluids will be moved out from cone top port.
The angle of the fluid entry has been specifically designed to facilitate the flow and separation. The cones are made of  polyurethane with optional steel inserts, which ensure consistent productivity.
Desilter cones remove fine sand and silt down to 30 microns.
Desilter cones are available of 4″size that have a 2″inlet and a 2″outlet.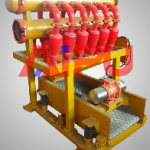 More info for desilter work principle
Actually, desilter work principle is main the hydrocyclone cones principle. It is similar with desander. Sometimes we'll combine desander and desilter together to save more space and get better performance via large bottom shaker screen area. The main different between mud desander and desilter is particle size. Nowadays more and more users prefer mud cleaner but not separated desander or desilter. They trust high efficiency will bring them more superiority and save more cost.
Characteristics of the desilter structure
The reversed umbrella shaped 'wet bottom' flow can drain out the sand easily and reduce the chance of jam at the nozzle.
The equipped advanced shaker screen with high capacity, little noise, and long service life of the screen.
The parallel inlet pipes make the desilter work smoothly.
If you want to learn more about desander and  desilter, or other solids control equipment like shale shaker, decanter centrifuge, sand pump and so on, you can contact with Aipu solids control  at any time.