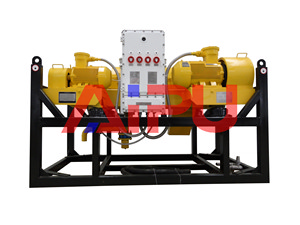 How to maintain drilling mud decanter centrifuge? ?>
How to maintain drilling mud decanter centrifuge?
Decanter centrifuge is the third stage separation equipment of drilling fluid circulating system, it can be used to separate out the solid particles whose diameter is 5-7μm. Decanter centrifuges are an essential part gradually of cost drilling fluid processing.
Why we need to maintain centrifuge?
Decanter centrifuge as a key part of solids control equipment is widely used in many industries, especially in oilfield drilling industry. For centrifuge used widely and frequently in complex geographical environment and different depth drilling, it is damaged easily. Understand how to maintain descanter centrifuge not only can save cost and prolong centrifuge service life but also can improve working effiencicy. Drilling mud decanter centrifuge maintenance also can keep its high capacity and serve oilfield solids control system better.
The decanter centrifuge maintenance rules
Minimize the need for gears or belts to drive the centrifuge.
Control and maintain speed during the decanting process.
Develop high torque at very low speeds.
Two motor applications, one for the bowl and one for the scroll.
The bowl has a very high-reflected inertia.
The scroll is usually in continuous regeneration, as it runs at a slower speed than the bowl and is pulled along.
Torque limiting on the scroll is very important.
Some configurations require zero-speed operation of the scroll ( differential gearbox ).
Dynamic braking or regenerative modules may be required if the bowl is not driven by a drive.
Explosion-proof environments.
Hoping the above tips is helpful for you in actual operation process. Please focus on Aipu solids control continually, we will give you more useful information in future.
Aipu as a professional oilfield decanter centrifuge supplier and manufacturer in oil drilling mud solids control industry can meet different requirments of different customers. Aipu is capable of providing customers a whole line solids control equipment. If you are interested in our products or need them please do not hesitate to contact us.