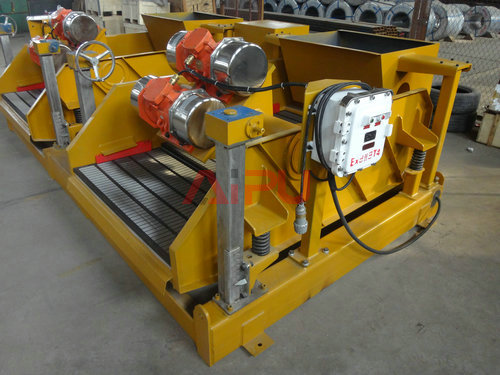 The application and performance of shale shaker ?>
The application and performance of shale shaker
Shale shaker is the first stage of solids control equipment in drilling purification system. It can remove more than 75μm cuttings from the drilling fluids and make the liquid with smaller particles flow into next stage solids control equipment to be further treated. Because of the shale shaker with simple structure and easy operation, it is widely used for many industries.
Shale shaker application
As the application of the shale shaker, it is widely used in almost every aspect in our living life and the process and the production of the materials. The shale shaker is mainly applied in the industry of mining, coal, metallurgy, construction materials, fire resistance materials, light industry, chemistry, medicine drugs and food, especially used for dredging slurry separation.
Regarding to practical application of shale shaker for dredging slurry separation. The screen can separate the particle and powder into different size. In the high handling capacity, the shale shaker with high performance can separate the over large particle and the over small particle rapidly. The shale shaker can eliminate the insoluble solid matter in any kinds of liquids quickly and continuously.
Shale shaker performance
The shale shakers performance can be easily observed, all aspects of its operation are visible. When well operated and maintained, shale shakers can produce a relatively dry cuttings discharge. In un-weighted muds, the shale shaker is the primary solids removal device. It's main role is to remove solids as much as possible and reduce the solids loading to the downstream hydrocyclones. As an important solids control equipment, the most efficient shale shakers and screens should be selected to achieve optimum economic performance of the solids control system.
With rapid development of drilling new technology, the demand for drilling fluid solids control is getting higher and higher. The research for solids control equipments especially for the shale shaker is paid closer attention by world drilling engineers.
Aipu machinery is a professional manufacturer of solids control equipments. Shale shakers designed and manufactured by Aipu machinery include three types: linear motion shale shaker, balanced elliptical motion shake, and circular motion shaker. Welcome to Aipu solids control.