Desander Unit for Pipe Jacking Machine ?>
Desander Unit for Pipe Jacking Machine
Desander unit for pipe jacking machine is designed for drilling mud treatment by vibrating shaker screen as well as cyclone. AIPU Solids Control is one of the top manufacturers for desander unit as well as shaker screen for various sizes. AIPU build several standard models depending on mud flow treating capacity and solids separation points required. The main components are double deck shale shaker, desander cyclone, desilter cyclone, centrifugal pumps, mud tank and tank attachements.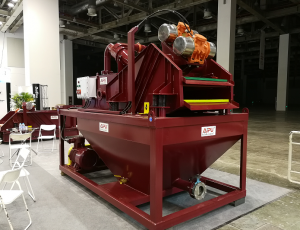 Special Designs for desander Unit
Very compact design for whole unit to minimum footprint for economy cost, fast moving and limit footprint on working site.
High mud flow capacity. The whole unit only 3 or 3.5 meters long, 2 meters wide, but it's mud flow capacity can be 30 to 500 cubic meters per hour. The shaker models normally double deck, bottom deck working for primary separation by a PU material screen or sieve type shaker screen for longer working life.
No storage capacity. As small footprint design, the mud tank design is only for sand trap and intermediate storage after cyclone treatment. The small footprint and economy design makes the mud tank no storage capacity with high mud flow treating capacity, the clients will require extra storage tank to meet requirement as well as mud mixer if required.
Whole unit will require height limit for land transport, all unit can be delivery without disassemble any parts for fast moving.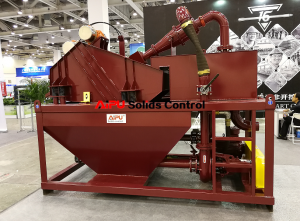 Desander unit is used for piling and pipe jacking machine to treat drilling mud over flow from drill hole. Please contact AIPU Solids Control for technical support or inquiry freely.