Decanter Centrifuge in Frozen Area Working ?>
Decanter Centrifuge in Frozen Area Working
Decanter centrifuge is the forth phase solids control equipments in oil and gas drilling industry, it is made by rotary centrifuge screw and bowl, motors, steel skid and electrical control panel. The high speed rotating centrifuge will separate solids particles 2 – 7 microns by centrifugal force. The decanter centrifuge can be made for working in Frozen area by lower temperature material, or the centrifuge can be laid in warm protection like warm water pipeline or working in warm inside. AIPU Solids Control builds different size of decanter centrifuge for drilling mud recycling or mud weight reduce.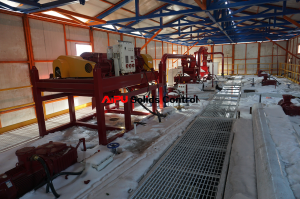 Decanter Centrifuge Main Components
Stainless material SS304 or SS316 rotating bowl, it's speed maximum 3500RPM by fit speed electrical control panel or 0 – 3200 RPM by VFD control panel. Bowl material and electrical control panel is customized by clients.
Stainless material SS304 or SS316 screw, impeller is coated by tungsten carbide material for protection screw from solids abrasion. There is a speed difference between centrifuge bowl and screw 0 – 40 RPM to help solids discharge out. The solids discharge points is made by ceramics or tungsten carbide ring for protection.
1 or 2 sets of electrical motors depending on centrifuge size as well as electrical control panel for centrifuge drive motor and centrifuge feeding pump. The motors and electrical control panel can be supplied in different standard like IECEX, ATEX, UL, DGMS or other standards depending on requirements at different cost rate.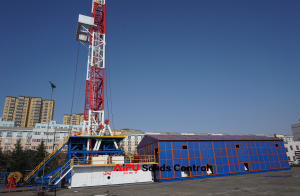 There may be special design or material for frozen area or hot temperature conditions for decanter centrifuge. The working conditions need to be listed before order to confirm centrifuge design and component election is good to suit jobsite working. AIPU Solids Control supply different size of decanter centrifuge as well as a complete of solids control equipment for drilling mud treatment.