Oilfield Desilter Options ?>
Oilfield Desilter Options
Oilfield desilter is the third phase cleaning equipment in the whole solids control system. AIPU Solids Control build different options of oilfield desilter with different configurations. The desilter main contains desilter cyclone, vibrating motors, pipeline frame, etc. The first phase equipment is shale shaker to separate drilling cuttings 150 microns and above, the second phase equipment is desander to separate drilling cuttings 70 microns and above, the third phase equipment is the desilter to separate drilling cuttings 20 microns and above, the forth phase equipment is the decanter centrifuge to separate solids 2 – 7 microns and above. Depending on mud conditions and drilling requirement, the site may choose different equipment and models.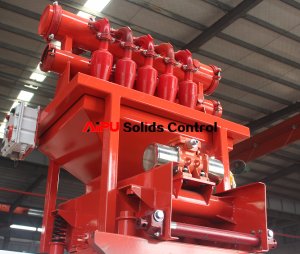 Oilfield Desilter Options
Mud Cleaner: it is names 3 in 1 with shale shaker, desander and desilter. It make second and third phase cleaning in 1 set to minimum footprint and budget by saving 1 set drying shaker. The drying shaker will working to dry solids out of cyclone.
Desilter cone with shaker: The deander will be a separate equipment to maximum it's working performance. The desilter cone quantity will be depending on mud flow capacity and shaker model selection depending on drilling condition and budget. It is 4 inch desilter normally.
Desilter cone with frame: The desilter cones connected by inlet and outlet pipeline. There is only cyclone separation without shaker for drying to save cost. The cone quantity can be 2 to 20 depending on mud flow treating capacity.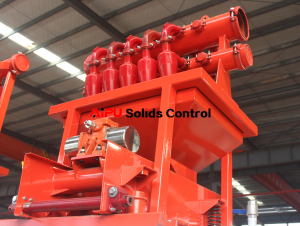 Other than oilfield desilter, AIPU Solids control supply shale shaker, desander and decanter centrifuge as well as mud tank arrangement. Many clients feed back it's not easy to source desilter spare parts, AIPU supply all related spare parts for desilter and all other solids control parts.