Decanter Centrifuge with Tank ?>
Decanter Centrifuge with Tank
Decanter centrifuge is the fourth phase solids control equipment to separate solids above 2-7 microns by centrifugal force. AIPU delivery one set centrifuge with tank to jobsite for drilling waste management application on recycling drilling mud to reduce fluids lost. A high speed centrifuge with 20 feet container size tank with agitator and pumps to recycle the drilling mud separated by vertical cuttings dry and high g dryer depending on drilling conditions. The centrifugal contains screw, bowl, motors, skid, gear box, electrical control panel and other attachment to reach a perfect solids separation.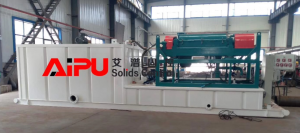 Decanter Centrifuge Tank Configuration
A set high speed decanter centrifuge for 20 to 30 m³/h mud flow capacity at 3200RPM high speed rotating with a fix speed control panel. 14" size bowl centrifuge is the most popular size and model to suit flexible drilling conditions.
20 feet container size mud tank divided into 2 compartments. One for storage of dirty mud over flow from vertical cuttings dryer and the second one to storage clean mud after centrifuge separation.
A screw pump installed on tank skid with suction from compartment 1# and discharge to decanter centrifuge to transfer drilling mud and feed into centrifuge with a proper pressure without damage solids before treatment.
A agitator installed on dirty tank to stop solids build up before centrifuge treatment.
Other tank attachment like stair, walkway, handrail, pipeline arrangement, etc.
The Decanter centrifuge tank is always customized design like tank size, compartment size and quantity, pump layout, equipment selection, pipeline arrangement, paint color, etc. Please contact AIPU freely for centrifuge tank inquiry.