Oilfield Mud Agitator Supplier ?>
Oilfield Mud Agitator Supplier
Oilfield mud agitator is well used on mud tank installation for tank agitating. AIPU is one of the famous agitator suppliers in the world for different options like vertical installation or horizontal installation, worm gear or bevel gear, with coupler or without, single impeller or double. The agitator is combined with electrical motor, gear box, coupler, shaft, impeller and a pubic skid. Oilfield mud agitator is typically use flame proof motors and control panel which is higher standard for electricals compares non-explosion proof area like horizontal directional drilling, water well drilling and other construction drillings.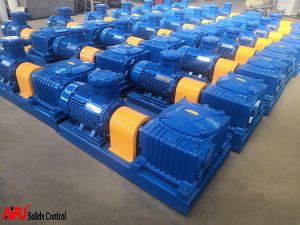 Oilfield Mud Agitator Technical Specification
Flame proof electrical motor with ExdIIbT4 or higher standard, IP 56 or higher protection level, Zone 1, 4 poles motor.
Worm or bevel gear options for open selection. Worm gear is cost effective but larger footprint and bevel gear is small foot print, high working effective and higher price.
Couper connected between electrical and gear for protection to pass motor rotation speed to gear box which will drive shaft.
Shaft installed on gear box for 1000mm to 2800mm depending on tank height. A stabilizer installed to help shaft working steadily.
Single layer or double later impeller installed on shaft to reach agitating performance.
Oilfield mud agitator is a small but necessary equipment for oil field mud treatment together with mud gun to reach a maximum agitating performance. Please contact us freely for agitator or other mud equipment inquiry.