Decanter Centrifuge For Fine Solids Separation ?>
Decanter Centrifuge For Fine Solids Separation
Decanter centrifuge is well used in drilling mud fine solids separation on the drilling site. The decanter centrifuge is modeled by bowl diameter, bowl length, bowl speed and control panel type. AIPU can supply different size of centrifuge to meet different requirement of mud flow and separation point requirement. Depending on centrifuge bowl speed, it will separate solids 2 – 7 microns out from drilling mud.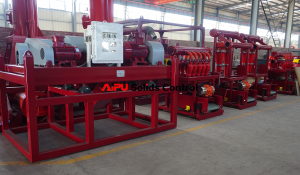 What Info Will Need To Choose A Decanter Centrifuge?
Mud conditions before entering into centrifuge for solids separation : density, viscosity, mud contents.
Mud flow capacity require for the centrifuge capacity.
Bowl diameter required. The bigger diameter, the high G force at a same rotating speed.
Bowl length required. The longer length, the longer time for solids settling, the better performance.
Material of bowl and screw. The material for bowl and screw is very important to avoid ware out.
Protection for solids discharge to keep sure it's hard to run out of protection material.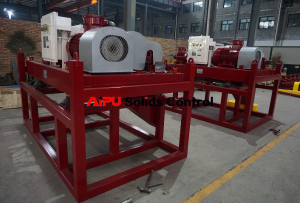 AIPU 14 Inch Decanter Centrifuge
Bowl diameter is 14 inch (355mm), bowl length is 49.5 inch.
Bowl max speed reaches to 3500GPM, the normal working speed is 3200GPM.
The clean water capacity 30 cubic meters per hour.
Bowl and screw is stainless material, there are SS304, SS316 or SS2205 for options depending on budget.
The solids discharge points can be ceramics or tungsten carbide material to protect.
The impeller is coated or welded tungsten carbide material for protection.
Standard color is AIPU red, the color can be customized by RAL No. as per client request.
Please contact AIPU Solids Control for more information.