Mud Tank Design Tips For Solids Control System ?>
Mud Tank Design Tips For Solids Control System
Mud tank is designed for solids control system to supply equipments work platform, mud storage, mud mixing, pipeline arrangement. The mud tank is mainly mechanical and not much technology, but there are some tips need to be considered to make it convenient for solids control working application. The tanks will be built as per applications like shaker tank, centrifuge tank, intermediate tank, active tank, mud mixing tank, water tank, etc. The tank will be divided into 2 or 3 tank compartments with pipeline and valves for mud control.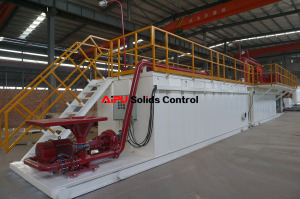 Main Tips for Mud Tank Design
The mud tank can be skid mounted with 3 runner or container type conner for easy lock why transport.
H beam of tank can be 150mm, 200mm, 250mm, 300mm or 350mm depending on tank size or client request.
Square pipe on tank top can be 100mm or 150mm size depending on mud tank size or client request.
Tank length, width and height is customized depending on mud storage capacity and equipment on top laid.
Tank compartment size divided depending on different applications
Mud agitator size and quantity installed depending on mud conditions and tank size.
Pipeline arrangement with valve depending on drilling application.
Mud agitator size, shaft length, double impeller or single impeller need confirm depending on tank size and mud conditions.
Tank top can be checker plate or gratings as per buyer requirement.
Painting colors need to be confirmed before build.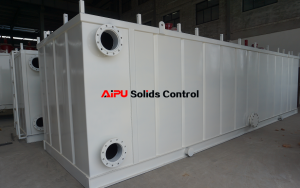 AIPU Solids Control is a professional manufacturer for solids control system as well as mud tank. AIPU able to supply a hole solids control system or separate mud tank, please contact us freely.