AIPU ZJ70 Solids Control System on Drilling Site ?>
AIPU ZJ70 Solids Control System on Drilling Site
AIPU deliveried a set of ZJ70 solids control system to oil drilling site end of Jul, the whole set system is under operation after site commissioning early Aug. The whole system is designed and manufactured for a ZJ70 drilling rig for 7000 meters drilling depth and 6 mud tanks for mud storage and equipment installation. The drilling engineers on site gave very good feedback on mud equipment performance and pipelines arrangement to suit the jobsite condition.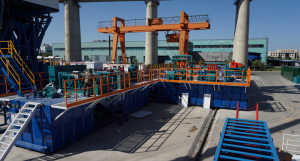 ZJ70 Solids Control System Conponent
2 sets of 500GPM mud flow capacity shaker installed at shaker tank for first phase work. A distribution pipeline fixed to both shakers from rig and discharge to shakers by a 8" pipeline with butterfly valves.
1 set desander with a mini shaker for 1000gpm mud flow capacity to reach a cost effective performance.
1 set desilter with a mini shaker for 1000gpm mud flow capacity with same bottom shaker of desander.
2 sets decanter centrifuge with 1 set middle speed for barite recovery and the other high speed centrifuge to separate fine solids out.
2 sets mixing pumps and mixing hoppers installed with suitable pipeline to balance drilling mud for jobsite requirement.
5 tanks layed as a " L " as per site space.
AIPU Solids Control is able to build solids control system for rigs from ZJ10 to ZJ70 with standard equipment and customized tanks and pipeline arrangement. Please contact us freely for solids control inquiry or technical support.