Slurry Pump for Mud Transfer ?>
Slurry Pump for Mud Transfer
Slurry Pump Application
The vertical submersible slurry pump is well used for drilling mud transfer from mud pit to mud equipment or mud storage tank. Vertical design allows mud suction point installed into drilling mud and all bearings is above fluids to make pump free maintenance. A protection cover fixed on mud suction point to stop solids or larger particles being sucked into pump.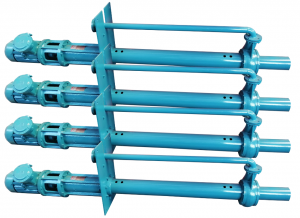 Slurry Pump Installation
If pump installs onto mud tank, there is a level plate on pump under motor, the plate is designed to bolted on tank top. The pump can be installed into mud pit as well with a builted simple platform to bolt pump level plate. The vertical design is maximized to reduce it's footprint especially when it's installed on tank top.
Slurry Pump Features
Self suction design is maximum increased pump efficiency. The submersible pump is a high effective pump compares centrifugal pump, screw pump, diaphragm pump or multiple centrifugal pump. All bearings above fluids makes pump free maintenance nearly zero cost for spares. Depth from level plate to pump suction point is customized from 1.0 to 1.8 meters. Standard depth 1.3 meters without special request.
Please contact us freely for slurry pump or other pump inquiry.