AIPU Solids Control System Successfully Operation on Site ?>
AIPU Solids Control System Successfully Operation on Site
Good news ! One of AIPU solids control system is successfully operated on site early Aug and all the operators are very happy with it's performance and gives us a very good comment. The whole system is designed for 2000bbl total net mud storage capacity and 1000gpm mud treating flow capacity at cut point 7 microns by a middle speed decanter centrifuge. The AIPU equipments arrived end of July, finished installation and commissioning at Aug 5 and drilling mud operated during Aug 10 to Aug 17 for the first stage drilling with a very good performance record on mud flow capacity, cutting point and dryness of discharged cuttings.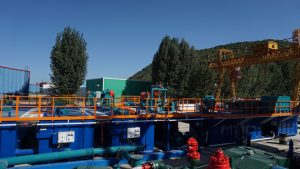 Main Parts of Solids Control System
Solids Control equipments for 4 phase solids separation and 5 phase cleaning with a degasser as well as other mud equipment like mud agitator, mud transfer pump, mud mixing hopper, mud tank, etc.
Pipeline arrangement to keep sure the complete system working well like mud pump suction pipeline, mixing suction line and discharge line, mud gun line, water line and mud ditch.
Tanks layout is customized as per drilling site footprint, "1" layout for 1-3 tanks and "L" layout for 3-8 tanks, "T" layout for 5-8 tanks, these are the most popular layout selection.
MCC house to control all big motors on site including solids control system motors larger than 30kw. This part is supplied by user or other electrical suppliers instead of AIPU
Drill site water tanks and fuel tanks can be supplied by AIPU as per storage capacity and spec request.
AIPU Solids Control is a leading supplier for different designs solids control system, please contact AIPU on email or website freely.