Cyclone Cleaner for Drilling Mud Process ?>
Cyclone Cleaner for Drilling Mud Process
Cyclone cleaner is a three in one equipment with desander cyclone, desilter cyclone and bottom shale shaker for 47 – 76 micron and 15 – 25 micron solids separation. The cleaner is used for top configuration of solids control system for high mud flow capacity, dryer solids product, cost effective and limit footprint. It is laid after shale shaker and vacuum degasser for 2nd phase and 3rd phase solids control. AIPU Solids Control supply open options for cleaner on cyclone size, cyclone quanity, shaker model and pipeline arrangement.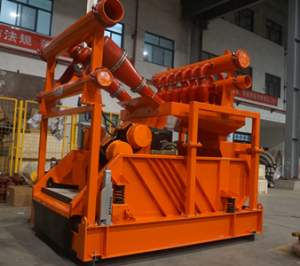 Configuration of Cyclone Cleaner
Bottom shaker can be large shaker with 3-4 decks or mini shaker with 1 or 2 panels depending on budget. The larger shaker will be better dryer performance on dryer product.
Desander cyclone is 10" or 12" for sand separation, 10" size cone is more popular on site. Desilter cyclone is 4" size and 4 – 20 pcs cone for mud flow 45 m³/h to 360 m³/h.
Pipelines for desander inlet and outlet, desilter inlet and outlet. Each inlet installs a pressure gauge for 0.25 – 0.4Mpa.
The separated solids particles drop from cyclone will drop onto shaker screen to dry and recycling drilling fluids. Please contact AIPU freely.