AIPU Back From Petrotech with Great Success ?>
AIPU Back From Petrotech with Great Success
AIPU Solids Control visited Petrotech India in Feb to bring AIPU drilling mud process equipment and introduce to India drilling contractors with great success. Petrotech is the most important international petroleum activities in India, many well known drilling contractors, Drilling equipment and spare part suppliers, Petroleum related companies will present the exhibition as exhibitor or visitor. AIPU present at Petrotech as exhibitor with a stand to accept visitors and introduce our equipment and service to all potential client to India.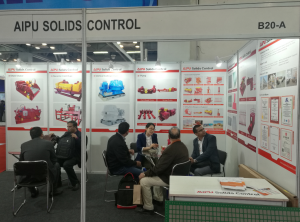 Success During Petrotech
The majority of AIPU clients who already bought from us visited AIPU stand, they feedback on AIPU equipment good performance and shows great interest in future mud equipment requirement.
Many new clients who didn't buy from us but heart us before finally meet us during the show.
Many new potential client who didn't know us before visited us, AIPU had a good show to them on our product and service, many of them shows great interest in future requirement.
AIPU understand India drilling activities better by talking to many of clients who is close involved into India drilling activity. It gives us good view of our new aim in year 2019 for India drilling market.
What AIPU Supply?
Solids Control Equipment including mud tank for drilling mud process on drilling site. Separate equipment or a whole solids control system.
Drilling waste management equipment for water based or oil based drilling cuttings further process.
Oil sludge separation system to treat oily tank, oily sludge or oil based drilling cuttings with oil content in solids bellow 2%.
Replace shaker screen for all sizes shakers.