AIPU Dual Motion Shale Shaker in Hot Sale ?>
AIPU Dual Motion Shale Shaker in Hot Sale
Dual motion shale shaker is one of the top techs to suit flexible drilling site with better mud treatment performance. AIPU shown the dual motion shaker in last March and many users are very interests and keen to understand the shaker better as they are already using our linear motion shale shaker on site. To promote the dual motion shaker in the early year 2019, AIPU supply a lot of benefit to our clients for sales.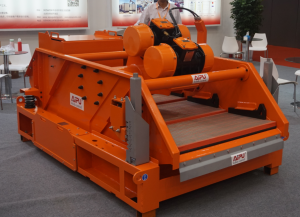 Benefit for Dual Motion Shale Shaker
Buy 2 sets shale shaker, get 20 pieces composite frame shaker screen free. The free shaker screen is suit to install on the bought shale shaker. More shaker sales will get more shaker screen.
Buy 1 set shale shaker, get 8 pieces composite frame shaker screen free.
Buy 2000 pieces Composite frame shaker screen, get 1 set shale shaker free, more screens sales will get more shakers
Buy 3 or more shale shakers, AIPU supply first time jobsite commissioning and training help free of charge for labour cost in 7 days. 1 engineer and 1 english speaker is available for the commissioning.
Dual Motion Shale Shaker Specification
4 panels shaker screen for a larger screen area, screen is replaceable with Swaco Mongoose.
Max G force reaches to 7.5G
Linear motion or elliptical motion can be shift by control panel buttons which is very easy and flexible.
Shaker deck angle is mechanical adjust from -1° to +5°.
Electrical motors and control panel is explosion proof, IECEX or ATEX certified electrical can be supplied for options.