AIPU Mud Cleaner Will Shown at CIPPE Exhibition ?>
AIPU Mud Cleaner Will Shown at CIPPE Exhibition
Mud cleaner is a necessary equipment in solids control system to separate sand and silt after shale shaker. AIPU will show mud cleaner at CIPPE China Oil Show in March to introduce AIPU product to all visitors. The mud cleaner contains a set shale shaker, 2 pcs desander cyclone and 12 pcs desilter cyclone to reach second phase and third phase mud cleaning after shale shaker.

AIPU Stand at CIPPE Exhibition
Exhibition Name: The 19th China International Petroleum & Petrochemical Technology and Equipment Exhibition
Exhibition Time: Mar 27 – 29, 2019
Exhibition Add: Beijing, China
AIPU Equipment in Show: Mud Cleaner, Centrifugal Pump, Shale Shaker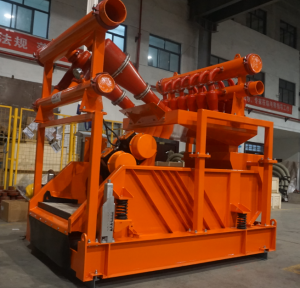 What AIPU Supply?
Solids Control Equipment or System: oilfield shaker, mud cleaner, oilfield decanter centrifuge, desander, desilter, centrifugal pump, vacuum degasser, mud gas separator, mud tank, mud agitator, centrifugal degasser, mud gun, mixing hopper, etc.
Drilling Waste Management Equipment or System: High G dryer shaker, dewatering centrifuge, screw pump, screw auger, intermediate tank, etc.
Oil Sludge Separation System including containerized tank, shale shaker, decanter centrifuge, dewatering chemical mixing system, oil water separator, etc.
Shaker Screen for various shale shakers in the world.
Other shaker spare parts for Derrick and Mongoose shaker.