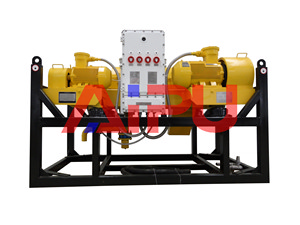 Solids control decanter centrifuge ?>
Solids control decanter centrifuge
Decanter centrifuge is the last stage separation equipment in the drilling mud cleaning system, it is most often used for clarification of liquid containing high concentrations of solids, removing solids from liquid.
Selection of decanter centrifuge
There are many types and models centrifuge used in oil and gas field, the most important factor of the decanter centrifuge treating capacity is the drum diameter and length. It is the main parameters to affect centrifuge capacity. Normally speaking, the bigger of the bowl size, the bigger of centrifuge max, capacity (hydraulic test). But it is not meant big bowl centrifuge is the best choice for bigger capacity. Customer should consider the material condition, the result they want to get after separation to choose the suitable model. For different mud condition, specially for drilling waste management, different centrifuge model suits.
Besides, with different design, lengths and cone geometries, decanter centrifuge from Aipu solid control can be applied in any processing environment that requires a separation step between solids and liquids.
Working steps of decanter centrifuge
Step 1: The slurry is inserted into the centrifuge through a connecting pipe and onto a conveyor.
Step 2: Utilizing an internal feed compartment, the conveyor ushers the slurry through a nozzle into the bowl area.
Step 3: The bowl rotates at high speeds to induce gravitational forces.
Step 4: High speed rotation separates the solid material from the liquid in a matter of seconds.
Step 5: The conveyor delivers the solid material upwards where it is discharged through a nozzle.
Step 6: The solid material removed, the purified liquid is released from a separate output.
Decanter centrifuge from Aipu solids control
The decanter centrifuge by our company has been developed many years with the continuous improvement and optimization design, which possesses the characteristics of good result of separation and settlement, as well as large quantity, reliable work, longer life, lower energy consumption, easy maintenance, smooth operation, lower noises, etc.
To ensure that the effective treatment result and long service life, the important parts adopts high quality stainless steel, forging material, strengthen heat treatment and strict control processing. And on each part that easily wears take spraying wear-resisting layer and mosaic of hard alloy, etc. The overflow of the main drum mouth using adjustable poling board, it can be adjusted anytime according to different sludge treatment.