Mud Tank Skid for Drilling Mud Treatment ?>
Mud Tank Skid for Drilling Mud Treatment
AIPU Solids Control supply different sizes of mud tank skid for drilling mud treatment. The mud tank skid may contains centrifugal pump, mixing pump, mud agitator, mud gun, mud tank, pipeline arrangement, etc.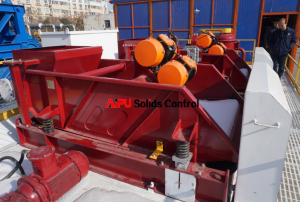 Equipment on Mud Tank Skid
1.       Centrifugal pump on mud tank can be working as mixing pump and transfer pump. If there is a mud mixing tank, there will be mixing pump and mixing hopper for new mud mixing.
2.       Mud agitator on tank top, the agitator shaft length is same with mud tank depth. The impeller size can be customized, it can be single layer and double layer. The agitator impeller will rotating 60-72 rpm to avoid solids build up at tank bottom.
3.       Mud gun will set at mud tank corner to avoid solids build up at tank corner. The mud tank will be divided into several tank compartment, the gun will set at the corner each tank compartment. The gun install 3 nozzles to flush.
4.       Mud tank size and pipeline can be arrange as per job site requirement. The tank size normally is 20 feet or 40 feet size mud tank for fast moving and truck lock. The mud tank will be divided into 2 to 4 mud tank compartment.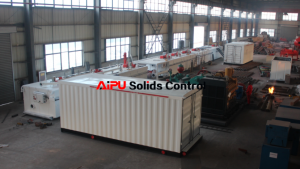 Mud Tank Skid Material
1.       Tank wall thickness is 8mm, tank bottom 10mm thickness, it is corrugated sheet for tank wall to increase it's strength. Tank wall can be 1000mm, 1200mm, 1500mm, 1800mm, 2000mm for ready material and reduce welding.
2.       Tank skid is made by H beam 100mm, 150mm, 200mm, 250mm, 300mm. The H beam size selection will be depending on mud tank size and tank capacity or mud weight.
3.       Square pipe install on tank top working as strength as well as water line & mud gun line. The square pipe is 100mm or 150mm size.
4.       Tank top is checker plate or gratings, the gratings top is open and many suppliers may choose gratings top for easy checking mud conditions. The checker plate is well sealed.