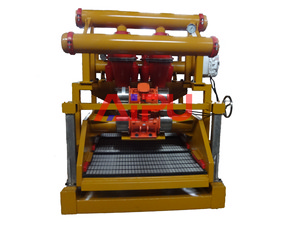 Mud cleaner importance in solids control system ?>
Mud cleaner importance in solids control system
Mud cleaner is the second class and the third class solids control equipment which is the newest type to treat the drilling fluid.  At the same time mud cleaner has the higher cleaning function compared with separated desander and desilter. In addition to the reasonable design process, it equals another shale shaker. Aipu mud cleaner structure is compact, it occupies small space and the function is powerful. Mud cleaner is the ideal device of the second class and the third class solid control to treat the drilling mud.
Mud cleaner importance
The mud cleaners separate a lot of drill cuttings entrained by the drilling liquid returning from the well to offer convenience for the slurry to enter into the next separating device-shale shaker.
Desander manifold can accept one, two, or three 10" desander cones. Each 10" hydrocyclone can process 500 GPM at 75' of head at the manifold for a total capacity of 1500 GPM. The mud cleaner's property and operation will directly affect the separating result of next separation equipment.
The vibrator makes the sieve box reciprocate, taking the solid grain in the slurry out of the sieve surface along with the sieve motion, realizing the separation of the solid and liquid.  Drilling mud cleaner structure
Drilling mud cleaner is also called desander and desilter assembly, which is the combination of desander, desilter and an underflow shaker screen. Namely, drilling mud cleaners consists of a two-stage separation process using a combination of hydrocyclones mounted over a shale shaker to operate as a single unit. Designed to handle the entire circulating volume, Drilling cuttings cleaners are effective on both weighted and unweighted drilling-fluid systems in removing and drying solids while retaining the expensive liquid. The hydrocyclones desanders and hydrocyclones desilters make the primary separation with underflow directed onto the shaker's vibrating screen. Used correctly, the drilling mud cleaner lower both drilling-fluid and disposal costs.
Choosing right mud cleaner basing on structure
The main structure of mud cleaner is using upper and lower two pieces of decorate, cyclone desander, desilter is decorated in the upper, the base is equipped with the chute, decorate a shale shaker on the chute, the structure is compact, small footprint area.
The desander and desilter main into the pipe and the liquid between a control butterfly valve can adjust the desander and desilter job number at any time, the operation is simple and easy to maintain.
The special polyurethane cyclone is in wear-resisting material, which has good corrosion resistance and high resistance to fluid flush advantages.
The inlet tangential feeding, smooth transition, is conducive to improve the efficiency of separation, the inner surface is smooth, reasonable flow.
Different number of the mud cleaner can be according to user requirements of cyclone desanding and desilting cyclone.