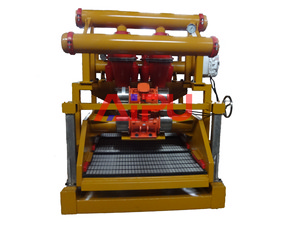 Mud cleaner working principle ?>
Mud cleaner working principle
Mud cleaner is a combination of desander and desilter, which is mounted over a shaker with a fine mesh screen, to remove the solids from the drilling mud. As the third stage of solids control equipment at drilling rig, mud cleaner plays an important role in solids control system.
Structure and working principle of mud cleaner
Mud cleaner is consisted of manifold, shaker screen, and hydrocyclone. First the drilling fluids are sucked up to 0.25Mpa ~ 0.4Mpa by sand pump, and enter into the cones through the side inlet which is normally only 2-1/2″diameter. The fluids then flow spirally inside of the cone. Effected by the centrifugal force, the heavy solids in the fluids would be throwed towards the inner wall of the cones, go down to the bottom, and discharge through the sand discharge port, while the light fluids would go up and discharge through the upper outlet. The diameter of the bottom discharge port is adjustable, and with a cover of hydrocyclone.
Mud cleaner is normally mounted after the vacuum degasser, but before centrifuge, so that the air that enter into the drilling mud can be first removed by degasser, and avoiding air blocking of the mud cleaner hydrocyclone. And the drilling mud with smaller particles can go to the centrifuge through vertical slurry pump to be further treated.
Why do people like using mud cleaner?
Commonly, the mud processing equipments are manufactured strictly according to national standard or international regulation such as API, etc. This decides products high quality. The equipments usually won't be broken easily except the spare parts and surface abrasion.
But many clients prefer using mud clear to separate desander, desilter or shale shaker. Because they think used mud cleaner  is more efficiency in processing drilling mud . In addition, mud cleaner is small footprint and easy to operate. If there are some problem in process of running, you only need to replace some parts and do some simple repair.
Generally speaking, for any other products, customers ask for with low economy cost to result from high economy benefits, lead time, well drilling project situation, etc. Welcome to Aipu solids control and we can meet your different and special request.