Mud Agitator For Sale ?>
Mud Agitator For Sale
Mud agitator is made by electrical motor, gear box, shaft and impeller for drilling mud agitating in mud tank. The mud agitator will be working 24 hours as long as drilling mud inside of mud tank. AIPU Solids Control keeps all standard models of agitators for stock for sale. The agitator sizes from 3kw to 22kw to meet all kinds of drilling conditions.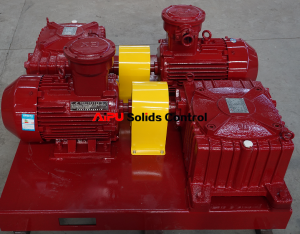 Main Configuration Of Mud Agitator
Electrical motor. There can be different standard for electrical motor like IECEX, ATEX or just China standard explosion proof. The different options will be very different prices and may delivery time also.
Gear Box. The gear box will connected between electrical motor and agitator shaft to reduce motor speed and make shaft rotating at speed 60 – 72 rpm depending on 50Hz or 60Hz. There are different types of gear box like worm and gear type or bevel gear type. The bevel gear type will save space and better performance but higher cost.
Shaft length will be made as per tank depth. The shaft length can be above tank bottom or connected with tank bottom for steady application.
Single or double impeller depending on tank depths, the impeller diameter can be 750mm, 800mm, 850mm, 900mm, 950mm, 1000mm, 1050mm or other size depending on drilling mud conditions.
Agitator type. There is vertical or horizontal type of mud agitator. The most agitators for drilling mud tank is horizontal type to keep tank height within limit.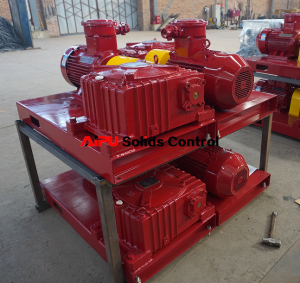 Other than mud agitator, AIPU Solids Control supply mud gun which has a same function on agitating drilling mud to stop solids building on tank corner. Please contact AIPU Solids Control for more information.