Fuel Tank Supplier From China ?>
Fuel Tank Supplier From China
AIPU Solids Control is a fuel tank supplier from China with experience of oil and gas drilling. The fuel tank normal round tank and tank size will be customized depending capacity or client request. Other tan fuel tank, AIPU build all kinds of tank for drilling site like shaker tank, mixing tank, storage tank, suction tank, active tank, water tank, trip tank, etc. AIPU built 10 sets of fuel tank for a local drilling site and delivery to site end of last week for operation.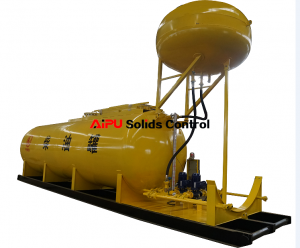 Fuel Tank Main Specification
Tank size: it's depending on fuel capacity request normally, tank length normal from 6 meters to 12 meters.
Tank type: Normal tank is round type and some build square type tank.
Fuel Pump: 2 sets of fuel pump will be installed for transfer fuel inside of tank.
Liquid Indicator: The liquid indicator will show fuel level inside of tank.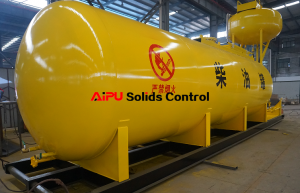 Other Mud Tank Supplied by AIPU
Shaker tank: There will be shale shaker, vacuum degasser and mud cleaner on shaker tank for drilling mud cleaning. The tank will be divided into several tank compartments.
Storage tank: It will storage clean mud for drilling site and normal install mud agitators to avoid solids build up.
Suction tank: There are mud pump suction line inside to allow mud be suctioned to drill hole.
Mixing tank: There are mixing pump and mixing hopper for mixing of new mud for reuse. The tank will be divided into 2 or 3 compartments with mud suction and discharge line connected to mixing pump. Mud agitators sit on mud tank top to stop solids building up.
Pill / slug tank: This normally fixed beside mixing tank or as part of mixing tank for mixing special fluids.