Drilling Waste Management Equipment Introduction ?>
Drilling Waste Management Equipment Introduction
Drilling waste management equipment happens to reach zero discharge on drilling site. On the traditional drilling site, solids discharged by shale shakers normally not dry enough for delivery, no mention for disposal. The drilling waste management equipments is to process drilling cuttings out of shale shaker to make it disposal or able delivery away directly.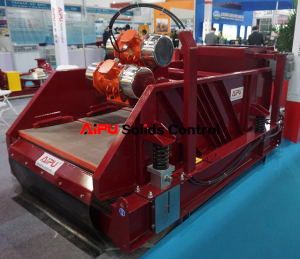 High G Drying Shaker – drilling waste management equipment
High G drying shaker is design to dry water based drilling cuttings out of shale shaker, it is hopper design for collect solids, longer deck and high G force for better drying performance. AIPU supplied high G drying shaker is 4 decks panel with 8.0 – 8.5 G force, frame type screen for composite material for longer working life. Each deck of screen is sealed with shaker deck by suitable rubber gasket. Shaker deck angle is adjustable by hand wheel for multiple applications.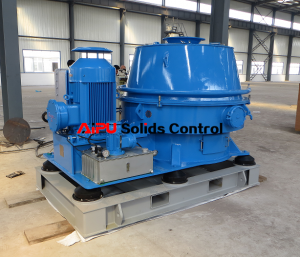 Vertical Cuttings Dryer – drilling waste management equipment
Vertical cuttings dryer is design to process oil based drilling cuttings out of solids control shale shaker. The screen basket is rotating at 0 – 930 RPM while process drilling cuttings, the fluids particles will be moving out because of centrifugal force and dry solids drop down to discharge. Because of centrifugal force, the solids out of vertical cuttings dryer is dry to 5% which is good to meet drilling site requirement.
Other than high g drying shaker and vertical cuttings dryer for solids process, there will need a set of decanter centrifuge to recycling fluids after above equipment. The recycled fluids will be able to pump into solids control mud tank for re-use again. The decanter centrifuge normal a high speed one for separate of 2 – 5 microns. Please contact AIPU Solids Control for further more questions or technical support.