Trenchless Mixing Tank Supplier In China ?>
Trenchless Mixing Tank Supplier In China
Trenchless drilling will require mud mixing tank and mud recycling tank for drilling mud re-use application. AIPU Solids Control is one of the trenchless mixing tank suppliers in China. Other than mud tank, AIPU Solids Control supply a full range of mud equipments as well for shale shaker, mud cleaner, centrifugal pump, decanter centrifuge, mud agitator, etc. The mud mixing tank is mainly for mixing water or light mud with new chemicals and keep sure drilling mud quality for re-pumping into the drill hole.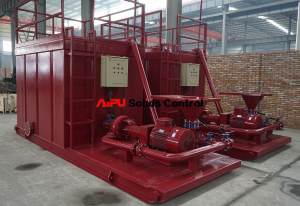 Main Specification for Trenchless Mixing Tank
Mud tank size is made depending on mud storage capacity and local transport dimension limit. Tank length, width and height all can be customized. I'd like to mention tank height normally with several options because tank wall height only several options without welding or cutting plate.
The mud tank can be skid mounted with 3 runner skid or container corner locking system depending on client request.
Mud agitators will be installed for agitating mud inside of mud tank. Normally 1 set of mud agitator each 3 or 4 meters tank. The agitator size will be depending on mud conditions and 7.5kw or 11kw agitator is most popular for trenchless drilling mud.
Mixing pump sit on tank skid with mixing hopper for new mud mixing. The mixing pump can be 11kw to 45kw size depending on mixing capacity required. There can be a T outlet for mixing pump to allow mixing pump work as a transfer pump and pumping mud from mixing tank out to other tanks or destination.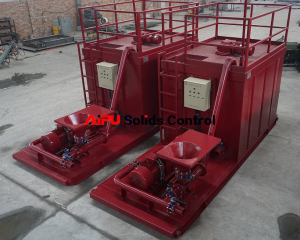 Other tank trenchless mixing tank, AIPU Solids Control supply mud recycling an mud mixing combination tank with mud cleaning equipments. All mud system can be customized by equipment model section and mud tank size or pipeline arrangement. Please contact us freely on details technical arrangement.