Drilling Mud Agitator For Sale ?>
Drilling Mud Agitator For Sale
Drilling mud agitator is the equipment to install inside of drilling mud tank and working 24 hours to stop solids build up. The agitator made by electrical motor, gear box, shaft and impeller. AIPU Solids Control build different sizes of agitator for sale with different specification. The whole mud agitator can be built in 30 days for standard regulation and maximum 40 days for special regulations, the delivery time can be shorter or longer depending on factory orders.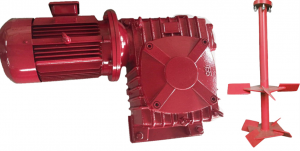 Specification of Mud Agitator
1.       Electrical motor size from 3kw to 22kw depending on drilling mud requirement and impeller condition. The motor is explosion proof and weather proof with different levels as per budget and technical requirement. The special certified motor can be supplied at extra cost.
2.       Gear box size will match depending on electrical motor, it can be worm and gear type or bevel gear with different rate and working efficiency. The worm and gear type gear box is more popular for drilling mud agitator in solids control system because of good performance and lower cost. The bevel type gear box will be higher working efficiency with same size motor and minimum footprint.
3.       Shaft and impeller can be customized depending on agitator size, drilling mud condition and mud tank size. The shaft length should suit mud tank depth and impeller size can be 800mm to 1100mm or other size.
AIPU mud agitator already sold to many countries on oil and gas field with good feedback, other than whole agitator, AIPU supply complete spare parts like bearing, oil seal, shaft, impeller for AIPU agitator which can be delivered very fast. There will be a set of control panel for magnetic starter to start of shut off mud agitator electrical motor, the control panel can be separated or fit on to agitator with cover as per request.