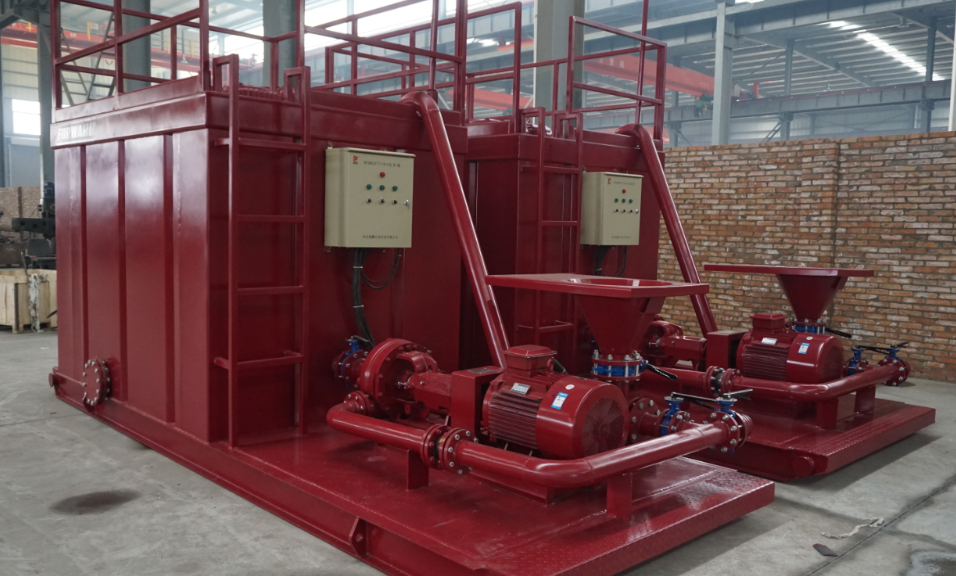 Mixing Hopper and Pump on Mixing Tank ?>
Mixing Hopper and Pump on Mixing Tank
Mixing tank contains mud tank, mixing pump, mixing hopper, mud agitators, mud guns and pipeline arrangement. The mixing hopper can be lay on tank top or tank skid depending on mud requirement and working convenience, The mixing pump will lay on tank skid with pipeline and valves.
Mixing Hoppers
There can be single or double hoppers depending on mud requirement, the 2 hopper connected with each other by pipeline and valves to reach same working application. The hopper is 6" size or 4" size, the 6" size hopper is popularly used for oil and gas drilling, coal bed methan drilling, larger HDD drilling, ect.. 4" size hopper is popularly used for small HDD drilling, rotary drilling, etc. There are 2 options ( round or square ) for hopper appearance.
Mixing Pump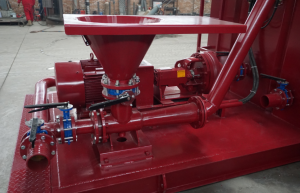 The mixing pump is a centrifugal pump with pump and motor. The pump is replaceable with Mission magnum. Depending on mud flow capacity, the pump size and motor size can be changed.  8 * 6 size pump is popularly used for oil and gas drilling for 1000GPM mud flow capacity, other size pump can be customized depending on drilling requirement.
Mixing Tank
Mixing tanks are used to storage of mixed drilling mud by mixing hopper and pump. The tank can be 1, 2 or 3 tank compartment, each compartment with a clean gate and mixing pipeline. Tank skid is 200 – 300mm H beam depending on tank size, tank top with 100/150mm square pipe for mud gun line and clean water line. Tank bottom skid can be 5 – 10 degree angle to clean gate for easy tank cleaning. Other than mixing tank, AIPU build mud agitator, mud gun for mud tank, Please contact us freely for inquiry.