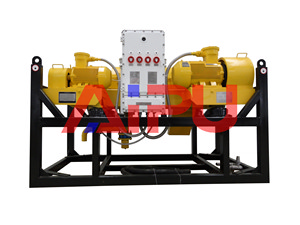 Decanter centrifuge from Aipu solids control ?>
Decanter centrifuge from Aipu solids control
Decanter centrifuge can effectively remove the harmful solid particles from the oil and gas drilling fluid, improve the mud performance, ensure the drilling safety, lessen the pollution of oil/gas reservoir and reduce the mechanical abrasion of drilling equipment.
Decanter centrifuge function
Aipu oilfield drilling centrifuge can meet different requirements of mud treatment under various drilling conditions, that can do sedimentation and separation for more than 2 μm solids. After treated by centrifuge, the mud can achieve ideal viscosity and proportion, results in better recycling, high efficiency, saving and environment protection.
Decanter desander produced by Aipu
The series of drilling mud centrifuge produced by our company has been developed for many years with the continuous improvement and optimization design, which possesses the characteristics of good result of separation and settlement, as well as large quantity, reliable work, longer life, lower energy consumption, easy maintenance, smooth operation, lower noises, etc.
To ensure that the effective treatment result and long service life, the important parts adopts high quality stainless steel, forging material, strengthen heat treatment and strict control processing. And on each part that easily wear take spraying wear-resisting layer and mosaic of hard alloy etc. The overflow of the main drum mouth using adjustable poling board, it can be adjusted anytime according to different sludge treatment.
Welcome to Aipu solids control
To meet the requirements of the development of modern drilling engineering, Aipu developed and equipped with the explosion-proof variable frequency control system which could adjust separation factor and drum rotational speed. By this new technology, make the drilling centrifuge adapt property changing of mud during the operation process, which makes the drilling mud treatment more effective and perfect.
If you are interested in our products or have any related question, please do not hesitate to contact us. No matter products request or solids control problem I believe we always provide your high quality products to meet your any requirements.