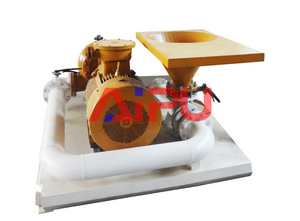 The types and selection of mud mixing pump ?>
The types and selection of mud mixing pump
Once we talk about the drilling project, the mud mixing pump is always an important role in the mixing process. The mud mixing pump is mainly to mix all chemical including bentonite and polymer with water in the mud tank and subsequently ready for the rig drilling.
The types and design for mixing pump
Mud mixing pump can be designed to many types. One is venturi hopper and centrifugal pump fixed together on the tank skid as one unit and the electricity power is controlled by chief electric cabinet
Second is the hopper fixed on the tank and the pump is on the tank skid they designed separately and connected by pipelines. The electricity power is from chief cabinet directly.
Another type is pump, hopper, and electric control cabinet  fixed on a separated skid and controlled by its own cabinet. One is pump and mud hoppers fixed together on a separated skid but get electricity from chief cabinet directly. We also can design it as dual mixer on one skid. That means two pumps and two hoppers fixed on one skid.
How to choose mud mixing pump?
Mud mixing pump choosing depends on the system handling capacity. For example, if there is a 3K oil well drilling mud process system holding 120m3/h capacity the mud mixing pump will request capacity up to 120m3/h also. Then the centrifugal pump should have flow rate up to 120m3/h.
Usually, the mixing pump selection has relation with flow rate also the horse power. Then the design of system and the tank construction
Then we need to consider the tank storage capacity. And every 10-30 minutes the jet mud mixer should finish mixture capacity up to storage capacity.
Combining with venturi tube and original jet nozzle, Aipu's new jet mud mixer specializes in simple structure and easy manipulation which can satisfy the drilling fluid's need on weighting and compounding from 1500m to 9000m depth. Mud mixing pump produced Aipu can be customized to be double jet mud mixer based on customer's need.