Cuttings Box Delivery to Drilling Site ?>
Cuttings Box Delivery to Drilling Site
AIPU built a hundred of cuttings box for a drilling contractor and deliveried all cuttings box to jobsite last week. The cuttings box is design to collect drilling cuttings on drilling site or storage of waste solids, so it will require fast moving and very convenient operation. The cuttings box name as mud skips also, and will located near the solids control mud tank system.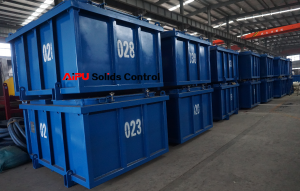 Main Specification of Cuttings Box
The drilling cuttings capacity 2 -3 m³ with a suitable cover for seal.
Fork lift transport position designed for fast moving and transport.
Well seal to avoid fluids leakage.
V bottom supply as an option for easy damping and avoid solids build up.
Standard color is AIPU red, but customized color is available for option.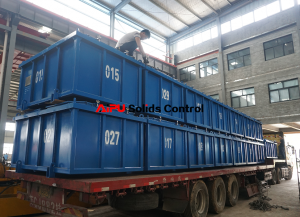 Where Drilling Cuttings Come from ?
Shale shaker will separate drilling cuttings from drilling mud, the size of cuttings are bigger and dyer, there will need at least one set of cuttings box for each shaker. There will be 2 – 4 sets of shale shaker for a full set of solids control, so it will need at least 2 -4 sets boxes for shakers.
Mud cleaner will separate fine solids for second and third phase cleaning, the mud cleaner can be replaced by 1 set of desander and 1 set of desilter. It will require 1 – 2 sets boxes here.
Decanter centrifuge will work as forth phase to separate very fine solids 2 – 7 micron and above. The solids out of decanter centrifuge is very fine and wetter.
Vertical cuttings dryer will work to dry solids out of shakers for oil base mud, it's very dry solids and able to delivery into truck for delivery or cuttings box.
High G shaker dryer is a longer deck and high G shale shaker.