AIPU Delivery Mud Agitator to Indonesia ?>
AIPU Delivery Mud Agitator to Indonesia
AIPU delivery 10 sets of mud agitator to Indonesia last week to Jakarta for trenchless drilling mud agitating. It is working on mud tank for Vermeer drill rig together with AIPU brand of mud recycling system. The agitators contains non explosion proof electrical motor, coupling, gear box, shaft and impeller. The mud agitator can be horizontal or vertical type design depending on size requirement, the horizontal agitator is well used to reduce total height for land delivery by truck.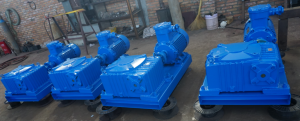 Mud Agitator Specifications
1.       Power of agitator 3kw, 5.5kw, 7.5kw, 11kw, 15kw, 18kw, 22kw. The power means electrical power. The motor can be vertical installation or horizontal installation depending on gear box selection.
2.       Gear box can be worm and gear type or bevel gear type. The worm and gear type gear box is more popular because it's cheaper price and good performance and easy maintainance.
3.       Coupling between electrical motor and gear box is an option parts for agitator, Some supply with coupling and some don't. AIPU standard option will supply coupling for protection of motor and gear box.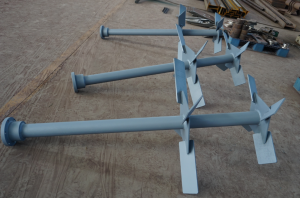 4.       Shaft length is supplied depending mud tank depth. There will be a stabilizer on tank bottom to fix shaft in.
5.       Impeller will be welding on shaft, the impeller diameter from 500mm to 1200mm depending on agitator size. It may be single or double impeller each shaft depending on tank depth and material for agitating.
AIPU mud agitator that delivery on site will be arrive to client's jobsite end of the year and final test on site. We will update test final early of next month. Other than agitator, AIPU build mud gun to stop solid build up inside of mud tank too, please contact us freely for inquiry or technical support freely.